↑
My favorite piece of my art at this time


Want the first drawing I did here:
fav.me/db3f95g









Get a FREE visitor map for your site!

My B-day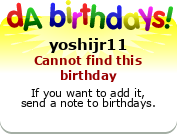 Text.LiveTyping.com

I used way to many stamps... =_=

Shippings (yay)-


X
X
X
X
X
X
X
X
X
X


Become part of the profile by commenting in the profile comment section and watching me.


- The first commenter


- The weird bfdi person I like


- The person who posted that camp I joined


-The really cool bfdi person so ha!


-The camp contestant


-The shuriken guy


- Watch for watch?


Lucky Commentor


OMGOMGOMGOMGOMGOMGOMGOMGOMGOMGOMG


New deviant


¯\_ ツ _/¯


Magnezoneeeeee


Clever


You OSHAwotT mate?


ᘳ > ‿‿ >


Skwak


Fan Button Maker


ummm....?


Shoutout tree


- Really good animations and art


- lol


- S̶e̶n̶p̶a̶i̶ ̶n̶o̶t̶i̶c̶e̶d̶ ̶m̶e


IT'S CRRRRIIIISSSSSMMMMMAAAAASSSSSS

























































































































































Why are you still here? T_T